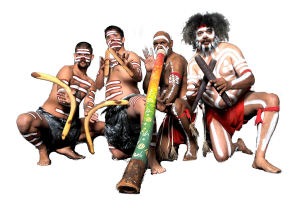 Enthralling and engaging, Diramu Aboriginal Dance and Didgeridoo are Sydney's best traditional indigenous Australian Aboriginal performance and education troupe. Lead by Aboriginal elder, teacher and artist, Walangari Karntawarra (B.A., B. Ed.) the members of Diramu are all seasoned, professional Aboriginal performers who have delighted and entertained audiences for over 20 years. Their traditional Aboriginal dance performances, Australian Aboriginal Dreamtime storytelling, masterful didgeridoo music and song are a vibrant and captivating way of showcasing Australia's rich indigenous culture to overseas visitors and the general Australian public. Diramu Aboriginal Dance and Didgeridoo take great pride in their work and have a well-earned reputation, having performed, entertained and educated audiences, young and old, from a wide range of corporate, tourism, educational and government organisations.
Indigenous Culture
The word Diramu means tree in the Aboriginal language of the Darug Clan of the Eora Nation, the traditional owners of Sydney. Diramu symbolises strength and knowledge. A tree provides food, shelter and many of the tools and implements used in our traditional life including boomerangs, canoes and didgeridoos.
Book an Australian Aboriginal Dance and Didgeridoo Performance
For bookings, references or further enquires, contact us by email at contact@walangari.com.au, use the contact page or phone 0414 932 863.