Painting is a very special expression of ones self. To indulge in a passion as spiritual as the Jukurrpa is (Aboriginal Dreaming) without doubt a most rewarding one. I have experienced many things in life, but what I try to do most is give people an understanding of the Jukurrpa in a way that people can appreciate through knowledge that the Jukurrpa has to offer.
Aboriginal culture is a spiritual culture. It is always important to pay your respects to the land and to honour our Ancestors and Dreaming spirits. It is just as important to pay respect to the living. That law is Caring and Sharing for all peoples.
The Emu is represented by two icons; either by its eggs, or by its tracks.
Sacred Sites Icon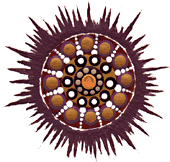 These icons are contemporary. They are visual descriptions for Sacred Sites.
Creation Dreamtime Icon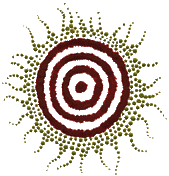 The Creation Dreamtime icons are the main concentric circles featured in my works.
Honey Ant Icon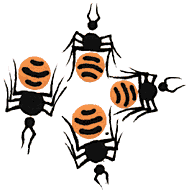 The Honey Ants are a bush food delicacy and are the earthly manifestations of the Seven Sisters.
Old & Young Woman Icons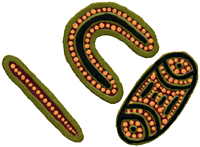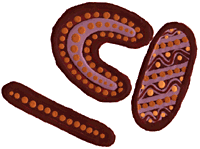 It is the responsibility of the older women to pass on ceremonial and practical information to the next generation. Women are represented by a "U" shaped icons beside a coolamon (carrying dish), and a digging stick.
Men & Hunting Icon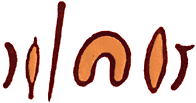 Men are represented by the "U" shaped icons beside his spear, shield, woomera, the hunting boomerang and the fighting boomerang.
Rain Icon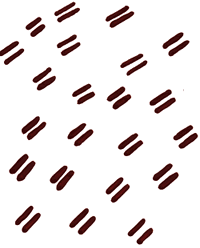 This is the traditional Rain icon from the Central Desert Region of Australia.
Snake (Male & Female) Icon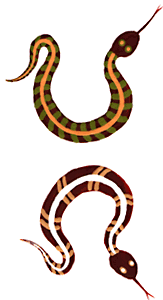 The Snake Dreaming is the most Sacred Dreaming. It is the Story of the two Creators, who in the Dreamtime made the mountains, rivers, wind, air and everything. However they too were subjected to the same law that our people were. The Creators broke their own law and were punished. When Yarrapirri tried to take revenge against my people but realised he could not, he cried. The soft rain is Yarrapiri crying.
Walkabout Icon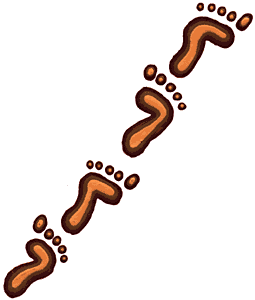 The footprints represent people going on Walkabout. It is also how we know who is walking in our country, they are like fingerprints.