Traditionally, Aboriginal Artist painting the Dreamtime, Aboriginal Artist depicts Aboriginal Dreamtime or Jukurrpa that belongs to him.
Being a traditional Aboriginal person, I paint only the following Jukurrpa: Snake, Honey Ant, Witchetty Grub, Centipede, Caterpillar, Water, Fire, Emu, Euro, Kangaroo Mouse, Rainbow, Milky Way, Seven Sisters. I also paint Bush Tucker, Bush Medicine and Teaching/Learning Stories.
The Snake Jukurrpa is the most powerful Jukurrpa, because it is the lineage of the creator spirit called Yarrapirri. An artist acquires a Jukurrpa at birth and other Jukurrpa through his or her family line. In this way my lineage comes from the very beginning of time.
In the Dreamtime there were two snakes, a male and a female. They always travelled together, making waterholes where our people make camp. These waterholes are very special places. When we come to these special places we have to call out to the great water spirits to let us drink from the waterhole. We then throw a stone into the waterhole and announce ourselves and our families to let the creators know who is present. By showing them this respect they always provide us with food, water and protection.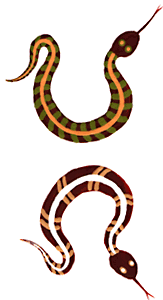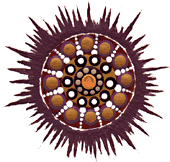 The snake Jukurrpa is all inclusive as it is the Creator(s) Spirit. It manifests itself in many forms. The most significant is water. The spirituality of water and its association with society demonstrates a small but integral aspect of the complexities of Aboriginal culture.
Note: There is an enormous amount of literary information on Aboriginal culture and I would recommend the Institute for Aboriginal Development in Alice Springs N.T. Australia as a first point of contact.
The Great Creators, the Rainbow Snakes, are brother and sister. In the Dreamtime they were punished by our people for committing an unlawful act after they had already become human and lived amongst us. Even though they were the Creators they could not break their own sacred laws. Yarrapirri. tried to avenge our people's punishment of him but in doing so felt great shame and sadness. Today, when you feel the light rain falling after a fierce thunderstorm, it is Yarrapirri. crying because he realised he could not destroy his family.